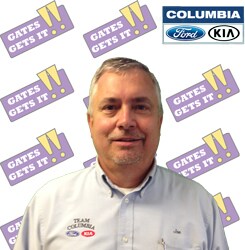 Hi,

 I'm Joe Brochu, Parts Manager at COLUMBIA FORD KIA. I have worked in the Parts Department since July of 1991 when Craig Gates, Dealer Principal, opened Columbia Ford. My staff and I have over 150 years of experience among us. Our Parts Department has over a million dollars of inventory in parts & accessories. We would like to invite you to our Dealership to experience the exceptional level of service that you will receive.
Parts Manager
One of the Largest Wholesale Parts Dealers in New England with 12 Delivery Trucks on the road daily. 
Retail Parts and Accessories Boutique offers you the widest selection of product
s. 
Having the right parts in stock is critical to the timely repair of your vehicle. We have fully stocked our Parts Department with Genuine Parts, and our inventory is computer controlled and updated frequently to ensure we will have what you need, when you need it. In the event we don't have the necessary part to complete your repair, we will find it. The resources available to us in locating your parts quickly and efficiently are numerous. When we find your part, we will notify you promptly and advise our Service Department, so they can schedule an install with minimal inconvenience to you. We take your Parts needs seriously. Your complete satisfaction is our #1 Goal.

We also offer a variety of Accessories to personalize your vehicle. Your salesperson can provide you with information about available accessories, or just visit our Parts Display Area next to our Service Lounge, and we'll be happy to help you. We also have Franchise Logo Merchandise, (such as hats, shirts, etc.) which we proudly display in the same area. 

Cash and Carry Discounts are available in our Parts Department for those of you who do your own service work - No Problem at Columbia Ford Kia. We're here to help, and we have it all!